One Hundred Things That Happened Today
2009-2010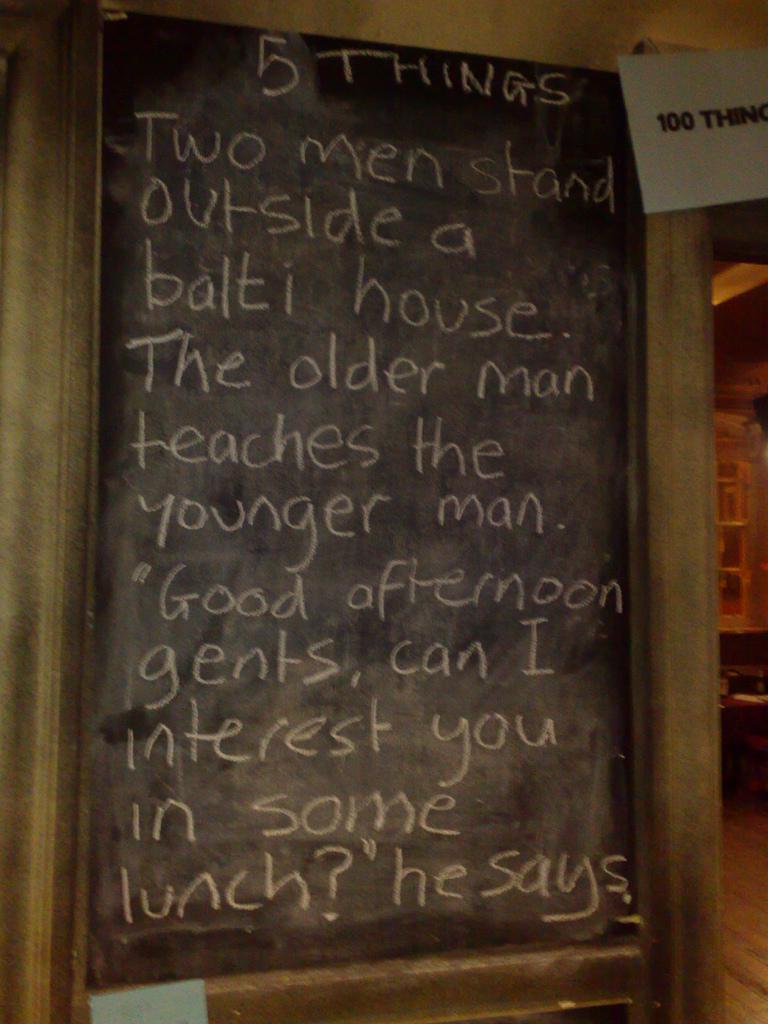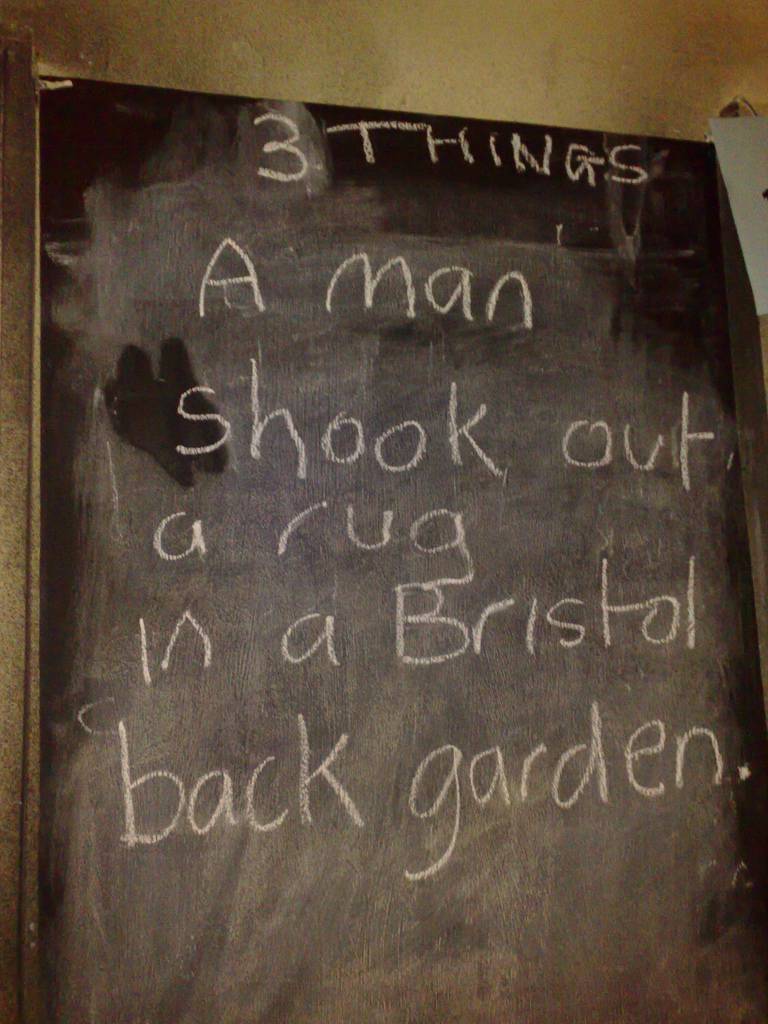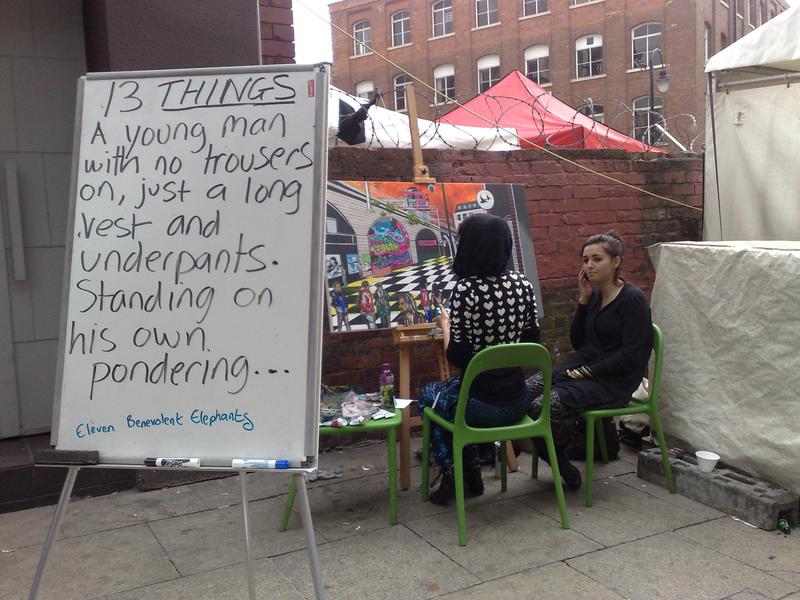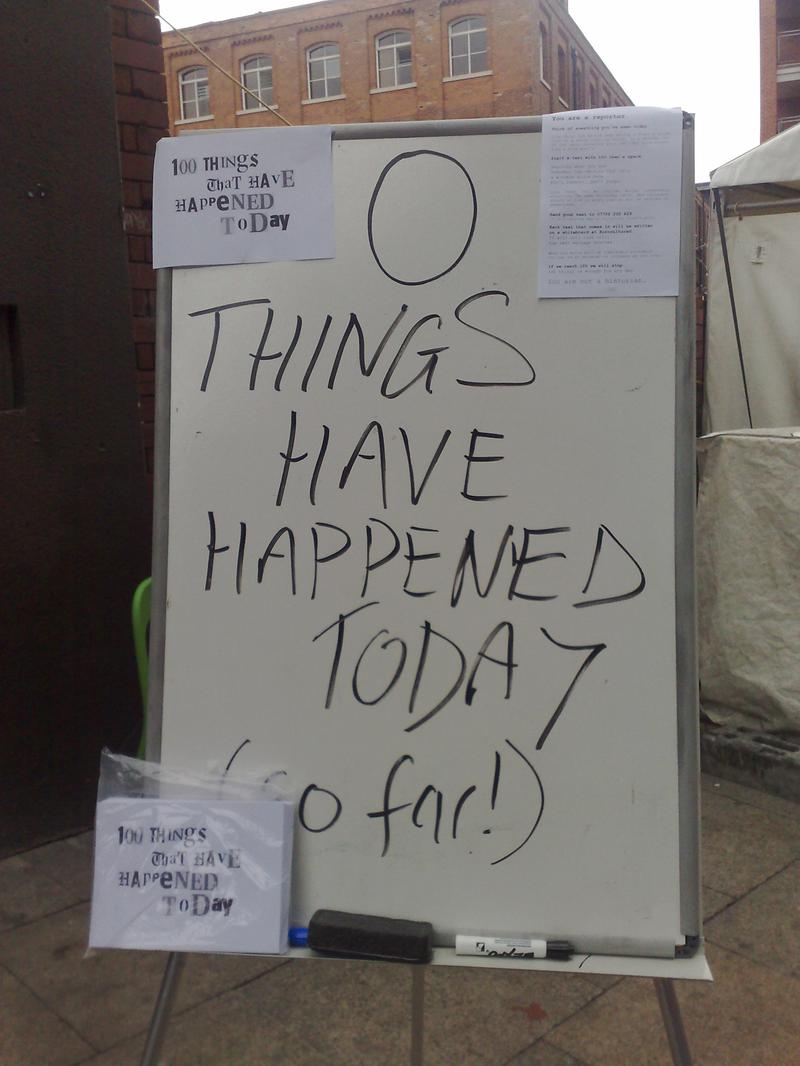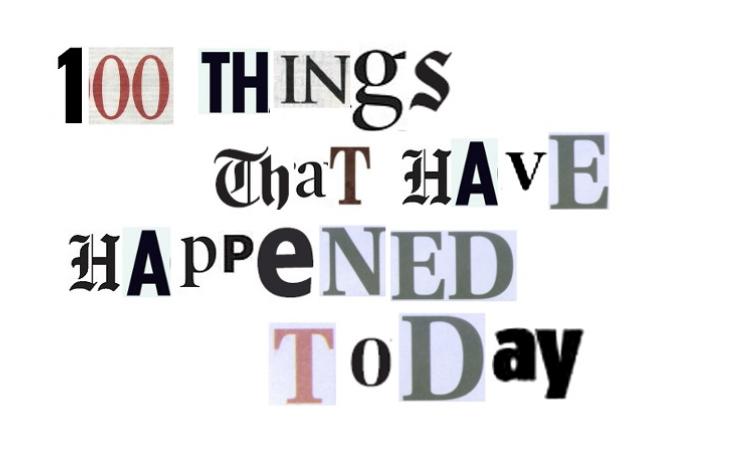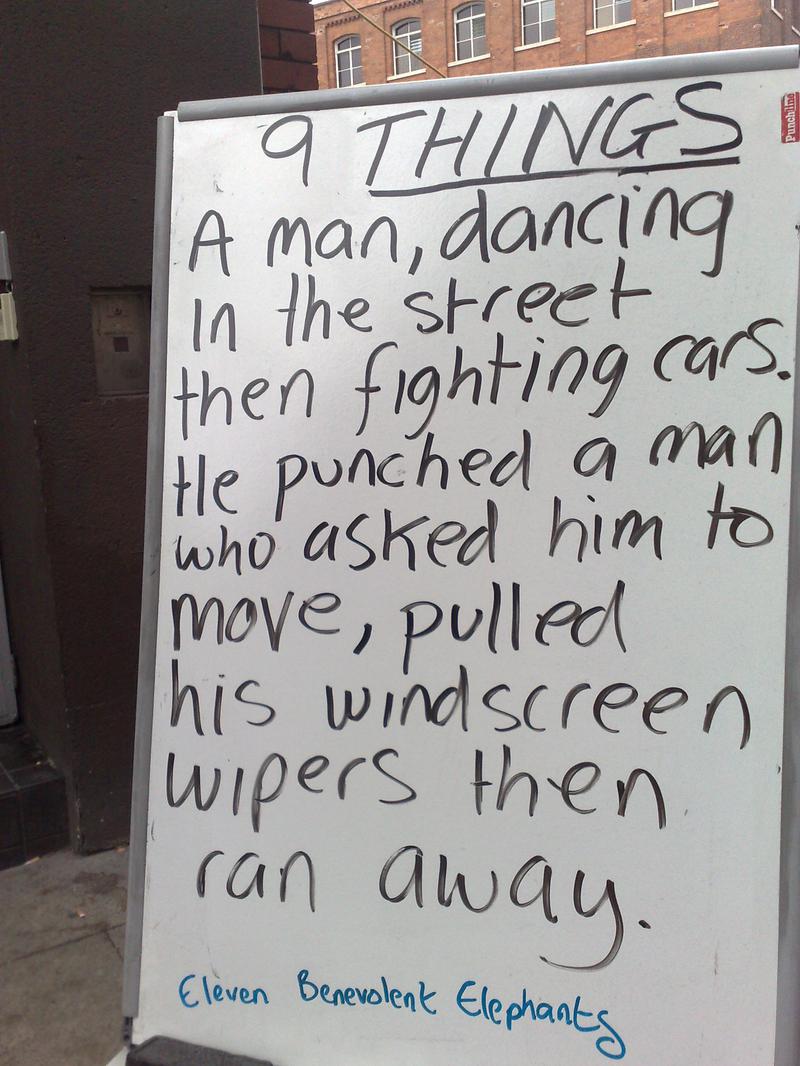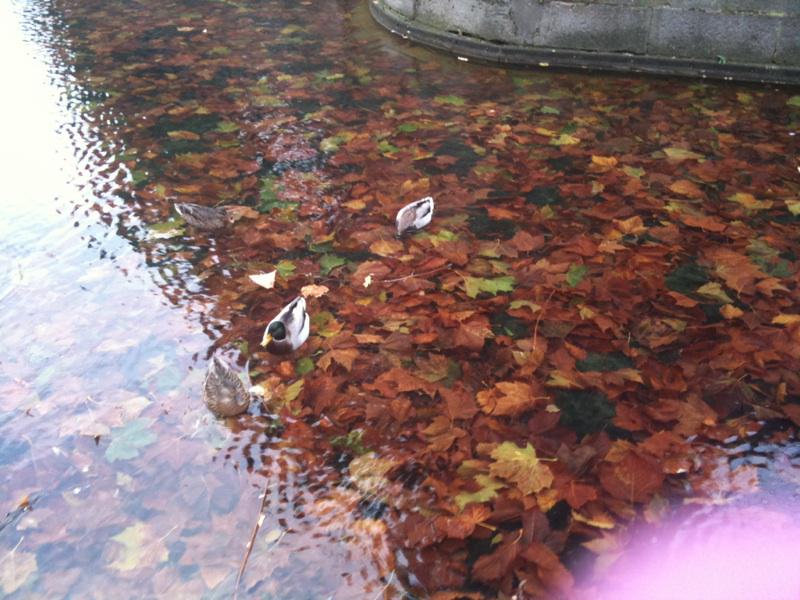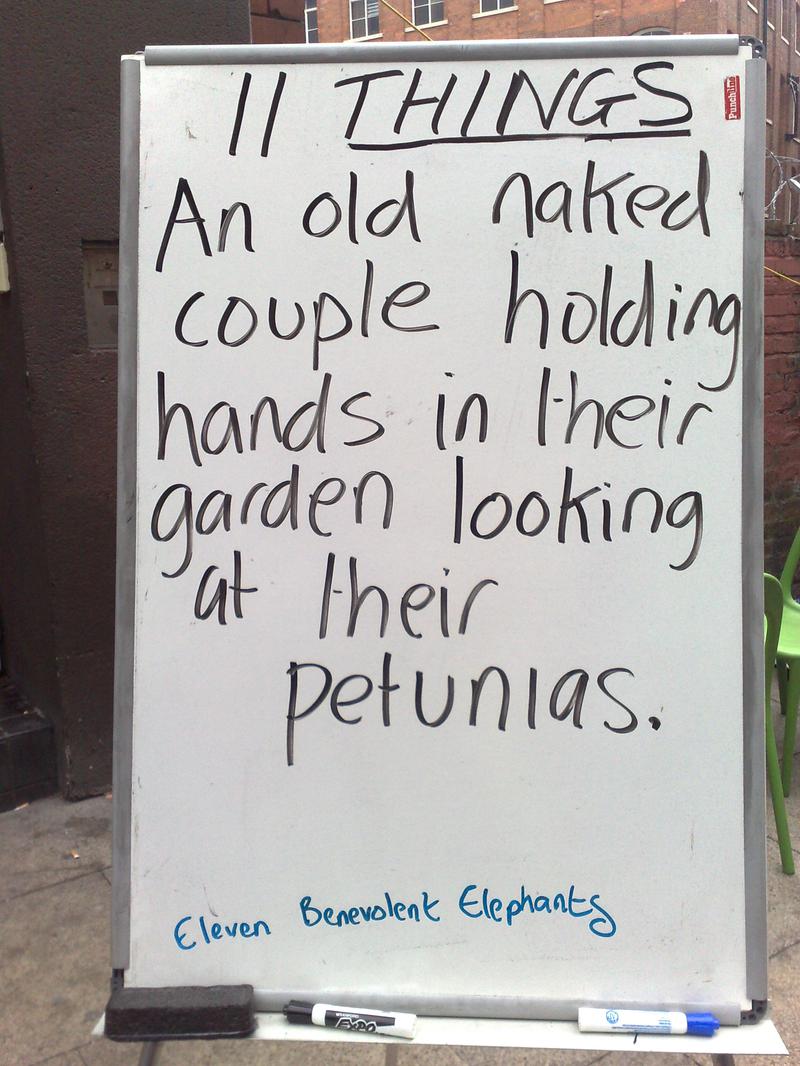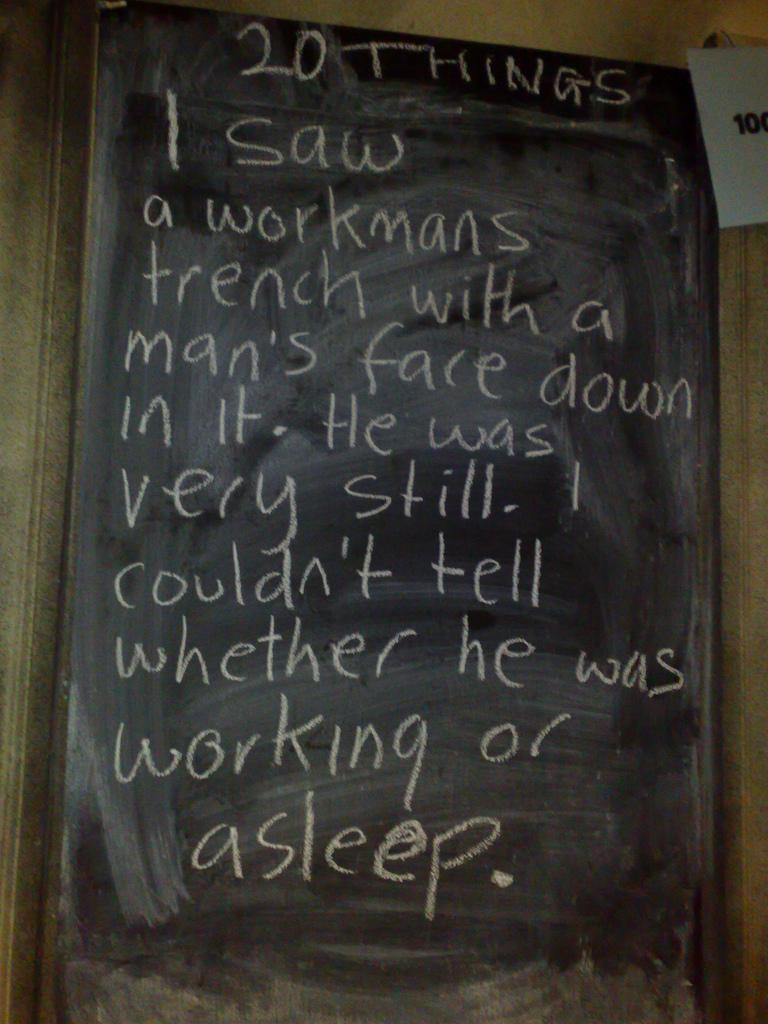 A live performance of creative writing by text message.
I'd set up a blackboard in the corner, hand out flyers with the instructions on how to play, then wait for a text message to come in.
I'd chalk the first message on the board, then rub it off when the next one arrived.
Sometimes a little crowd formed and the messages came in quite quickly.
It happened four times, at Battersea Arts Cente and the V&A in London, and Larkin' About and a festival called Eurocultured in Manchester.
We never got to 100, the most was about 45 I think.
One Hundred Things That Happened Today was a structure for quickly teaching people how to do creative writing. These lines are part of the instructions from the back of the flyer.
" Think of something you've seen today. Describe what you saw. Remember the details that only a witness would know. Don't comment. Don't judge. Write no more than 160 characters."
It worked really nicely at times. These are some of my favourites.
Don't underestimate them because they are short and composed off the cuff.
If you read it carefully, the first one is about death finding everyone sooner or later.
"I saw a workman's trench with a man's face down in it. He was very still. I couldn't tell whether he was working or asleep."
"An italian waiter repeatedly whistling the same christmas carol. His colleague shouts at him in angry italian but he carries on regardless."
"A 15 year old boy in an RE lesson. He is manipulating his genitals. The teacher tells him to stop. 'but i've got a wedgy sir.'"
"Two men stand outside a balti house. The older man teaches the younger man. 'Good afternoon gents, can i interest you in some lunch?' he says."
"A man shook out a rug in a Bristol back garden."
"A girl on the tube going to work falls asleep on a man's shoulder. As soon as she realises she stands abruptly and gets off a stop early."
"Ducks paddling on shallow light reflected water full of burnt red maple leaves. They hoped I had something for them but I was only eating oranges"
"A little girl skipped along the platform at palmers green station and then jumped into her father's lap and sat on his knee."