Sustrans Staff And Volunteers Python Programming Group
2015-2016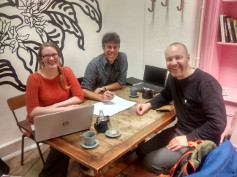 A structure for Sustrans staff and volunteers to share Python programming knowledge.
I initiated the group during my research residency with Sustrans and Mixed Reality Lab at the University of Nottingham, as a way to share knowledge and co-ordinate work on modest programmes to support Sustrans' activities and aims.
Robert Weetman, one of the group, went on to write a programme that he uses in his day-to-day work with Sustrans and could share with other people in the organisation.